Understanding Embedded Finance
What is Embedded Finance?
Embedded finance is a fintech sub-sector and the term refers to integration of financial services into non-financial business or services. This integration allows businesses to provide financial services to their customers without them having to leave their platform. For example, every time you pay for your purchased goods or services online without having to leave the app, its the magic of embedded finance. Other examples include digital wallets, payment processing, pay-later, insurance, loans, etc. This became trendy in the last couple of years, as it boomed particularly in 2020.
Embedded Finance Technologies
Embedded Payments
This is a type of payment system that is integrated into the overall functionality of app or website. Embedded Finance allow users to make payments within the application or website without the need to leave and go to a separate payment processing page. Embedded payments were the first financial service to be incorporated into non-financial products. And probably the most well-known type of embedded finance offering. Some of Embedded payments use cases are subscription based services, E-commerce, in-game purchases, crowdfunding campaigns, online marketplaces etc. Google Pay, Amazon Pay and Venmo are few examples of embedded payment applications.
Embedded Buy Now Pay Later Installment Plans
Companies now offer Buy now Pay later services where the consumers can get the product right away and pay for it over time in installments. This installment plan option undergo presentation during mobile checkout. For example, Amazon Pay offers a Pay later option of 3 to 12 interest-free installment plans.
Embedded Lending
Embedded lending is another layer of Buy now Pay later. It refers to the integration of lending functionality into the existing processes and systems of a company through their embedded finance offerings. This type of lending allows companies to offer financing options directly to their customers, without the need for customers to go through a separate lending institution. Consumers don't need to go to the banks right now to get a loan now. Example: Using Instant Settlements for Marketplace Sellers, marketplace sellers can receive loans based on their sales data which is fetched directly from the marketplace platform utilizing safe and secure APIs in seconds.
Embedded Investing
Embedded investing refers to the integration of investment options directly into a company's existing products, services, or platforms. The goal of embedded investing is to make it easier and more convenient for customers. This is by enabling them to invest in various financial assets without leaving the platform. Example: Embedded investment firms include programs like Robinhood, Cash App, and Acorns through which selling, buying, and exchanging stocks are all possible without leaving the app or interacting with an investment advisor.
Embedded Insurance
Embedded insurance is integration of insurance products and services directly into a company's existing platforms. This enables any third-party provider to integrate insurance products into its customers' purchase journeys seamlessly at a low cost. They are a much better option than the complicated traditional process of buying insurance plans. Here you no longer need to meet an insurance agent to get coverage for an upcoming trip or a new purchase.
Example: Travel or Booking companies have embedded the insurance application process into the checkout experience. Here travelers can purchase it during booking time.
Why Embedded Finance matters?
The market size of embedded finance has grown rapidly in last few years. Many non-financial businesses are offering embedded finance services already. The largest usage of embedded finance today is for payments. It includes the possibility for e-commerce companies to perform payments on their sites without entering bank details.
Stats & Numbers
This finance predicts to become a multi-trillion dollar opportunity. Its market value estimate to be bigger than the current value of all fintech startups and global banks and insurers combined.


Embedded finance have attracted more than 3 billion dollars in funding in 2021. This is 3X the growth compared to 2020. ( according to a research by Dealroom).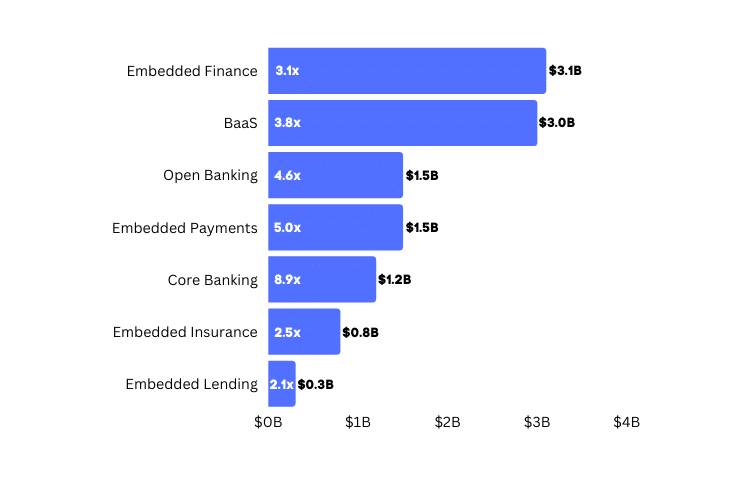 Following is estimated sector wise opportunity of Embedded Finance Industry by 2030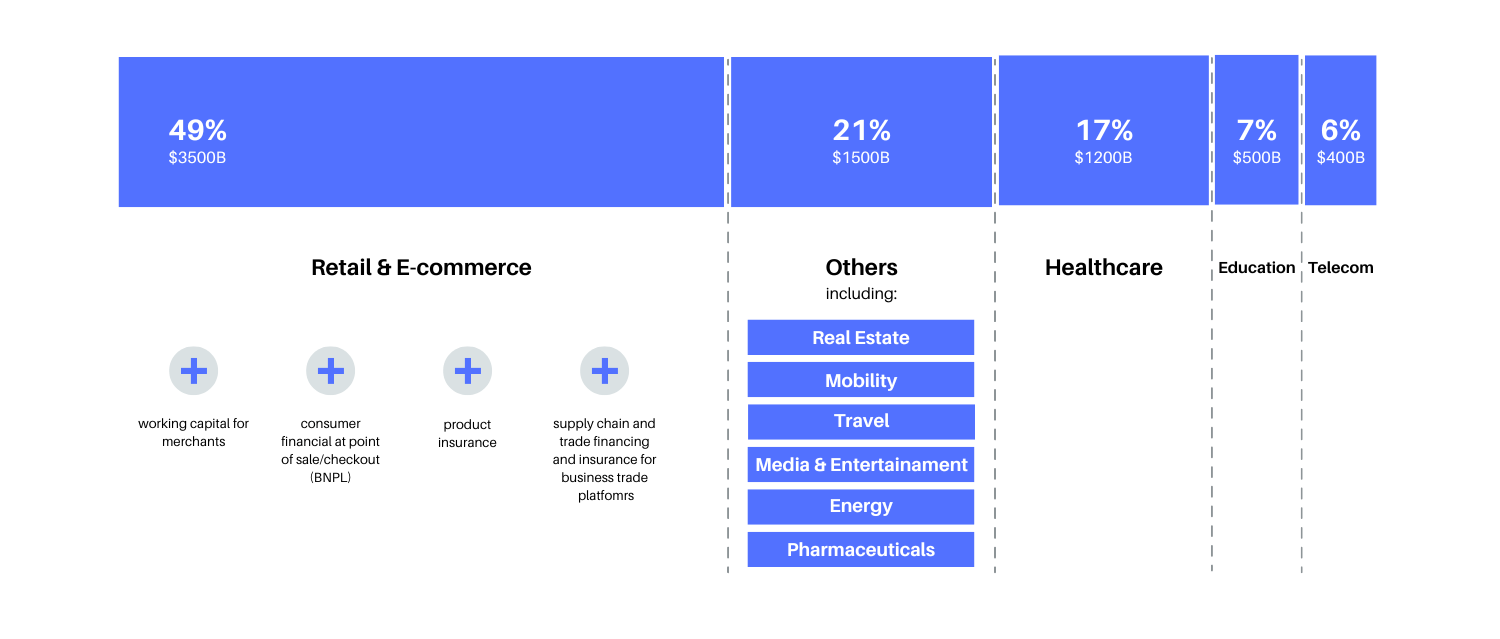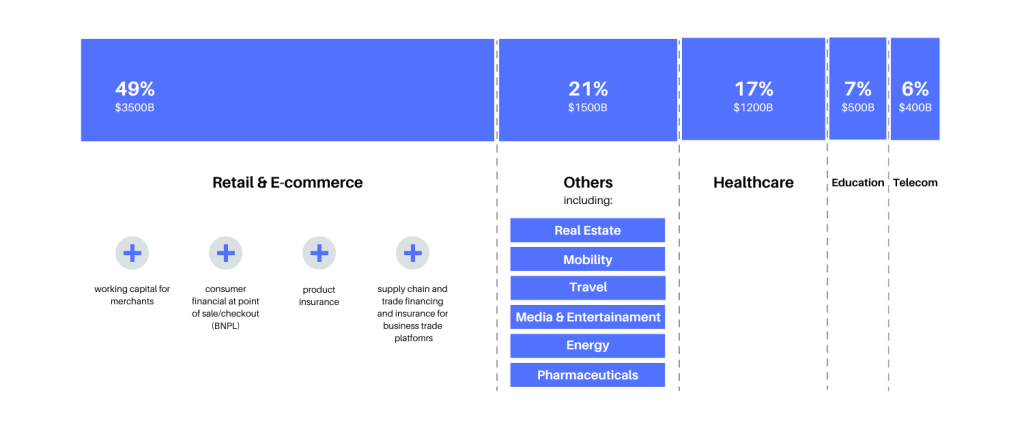 Marketplaces are increasingly embedding financial services to seek higher valuation than their peers. Fintech enabled marketplaces receive 6.7X higher valuation compared to the other. Few examples of fintech enabled marketplaces are Airbnb, Uber, Shopify etc.
Players in the embedded finance ecosystem
Following are the few of the major embedded finance companies around the world:


Embedded Finance and Banking as a service (BaaS)
Embedded finance and BaaS have attracted billions of dollars in funding and grew 3x in 2021. Both expect to take the world by storm over the coming years.
What is the difference between Embedded Finance and BaaS?
Embedded Finance and BaaS go hand in hand. Even though each differ in their focus areas, there always seems to be a confusion on how they differ from one another.
Embedded finance is more front-end and focuses on the customer experience. Also it provides financial solutions along with buying other goods or services. Here, financial services and products directly integrate into an existing services or platforms of a business.
BaaS is a model where banks and financial institutions provide banking services and technology to other companies, allowing them to offer financial services to their own customers. BaaS is a bank-like service that have more digital consumption. They typically involves licensing of banking infrastructure, such as payment processing and lending capabilities, to non-bank companies.
Industries that are adopting Embedded Finance techs
Embedded finance is rapidly expanding and supports the growth of non-financial corporations, including consumer goods brands, retailers, travel, tech and software businesses, automakers and insurance firms. They are providing great growth opportunity in lucrative B2C and B2B segment in various sectors including E-commerce, Travel, Healthcare, Education, Pharma, Real Estate and Entertainment.
Retail & E-commerce estimate to have a growth opportunity of $3500 billion dollars, whereas healthcare and education expect to grow up-to $1500 and $500 billion dollars by 2030. Other sectors including real estate, travel, mobility, energy, pharmaceuticals expect to have a total growth opportunity of $1500 billion dollars by 2030.
What is the Future of Embedded Finance? How will it change Fintech?
The future of Embedded finance is bright and the market expect to grow into multi trillion dollars in value by 2030. Moreover popularity of digital platforms, growth of mobile E-commerce, rise of fintech and the sharing economy are the main driving factors of embedded finance.
With the rise of digital transformation and the growing demand for financial services that are convenient, accessible, and integrated into everyday life, embedded finance is well-positioned to meet these needs.