Understanding Viability Gap Funding
Introduction
Lack of finance is the main limitation in the infrastructural sector in India. The Government recognizes that infrastructure requires a significant investment that the public cannot finance alone. Therefore, in other words, it cannot be financially viable because of long capital investment requirements, long gestation period, and small revenue flow in the future. Most importantly, the Government decided to implement a new scheme named-"Viability Gap Funding" (VGF), formed in 2004, and administered by the Ministry of Finance (Nirmala Seetharaman). In other words, It aims to complete the infrastructure projects successfully that are economically justified but fall short of financially unviable. On a year-to-year basis, Plan Scheme had designed for this fund, and the budget is allocated.
However, earlier projects were limited to economic infrastructure. Later, In 2006, The Cabinet Committee on Economic Affairs, chaired by Prime Minister Sri Narendra Modi approved revamping or updating the VGF scheme as "the Scheme for Financial Support to Public-Private Participation (PPP)," extended over five years (till Financial Year 2024-2025).
PPP refers to a project based on a contract between Government and a Statutory entity or private sector company for supporting infrastructure services. The new scheme encouraged both social and economic infrastructure projects. It aims to support projects that come under PPP and facilitate private sector investment in social infrastructure.
Further, the revamped scheme becomes operative within one month of Cabinet Approval, financed by budgetary support of the Ministry of Finance. A total outlay of 8,100 crores for investment was predicted, out of which 6,000 crores were set apart for PPP projects in the economic infrastructure division and the remaining 2,100 crores for social infrastructure projects. In short, the Viability Gap Funding scheme is a one-time or deferred grant to support infrastructure projects that comes under Public-Private Partnerships (PPP).
What is Viability Gap Funding Scheme?
The Viability Gap Funding (VGF) Scheme supports economically justified infrastructure projects that lack full financial viability. It is available only for projects with private sector sponsors selected through competitive bidding. The VGF covers up to 20% of the total project cost, and additional grants of up to 20% may be provided by the Government if needed.
List of Sectors Under the Viability Gap Funding Scheme
Health and education development.
Roads, railways, seaports, airports, bridges, etc
Soil testing laboratories
Water supply, sewerage, and solid waste management
Telecommunication (Fixed Network)
Infrastructure projects in Special Economic Zones(SEZ).
Capital investment in the creation of modern storage capacity(including cold chains and post-harvest storage)
Common infrastructure in agriculture markets
Objectives
To attract and promote more PPP's in social and economic infrastructure, thereby making essential projects viable.
To facilitate investment in social sectors such as education, health, water supply, wastewater, and solid waste management.
Building new hospitals and schools generates more job opportunities, especially in remote areas.
The new scheme will be beneficial to the public as it helps develop the country's infrastructure.
It focuses on integrating private participation of social sectors.
Benefits
The scheme's objective is to encourage Public-Private Partnerships (PPPs) in both social and economic infrastructure, fostering efficient asset creation and ensuring effective Operation and Maintenance. By making economically and socially essential projects commercially viable, it brings benefits to the public at large, contributing significantly to the country's infrastructure development.
Impact
The proposed VGF Scheme revamp aims to attract a greater number of PPP projects, encouraging increased private investment in social sectors such as Health, Education, Waste Water, Solid Waste Management, and Water Supply. This would lead to the establishment of new hospitals and schools, generating numerous employment opportunities, and fostering overall growth.
Applicability and Eligibility
Within 30 days of receipt of the project proposal, Empowered Committee shall inform the Government/Statutory Entity about the eligibility of projects for Viability Gap Funding.
It can be only applicable to PPP projects proposed by Central Government/Central ministries/Statutory Entities as the case may be.
A Private Sector Company shall implement (develop, finance, construct, and maintain for the project term) the project for funding.
Also, the project should provide service against payment of a pre-determined tariff or user charges.
A private sector company shall be eligible only if selected through open and transparent competitive bidding.
The proposal will be applicable only if the contract/concession is awarded in favor of a private-sector company.
Funding
Concerned State governments/Central Ministries/Statutory Entities invite funds in the form of a capital grant within four months of the approval of the Empowered Committee. Whereas, the Department of Economic Affairs may extend the period if necessary.
State Government/statutory entity/Ministry will restrict funding to 20% of the Total Project Cost if the sponsoring State Government/Statutory Entity/Ministry aims to provide assistance over and above the stipulated amount under VGF.
Disbursement of Grants
The VGF grant will be disbursed at the construction stage only if the private sector company has subscribed and expended the equity contribution required for the project.
After the recommendation of the sponsoring authority, the Empowered Authority can release the grant to an escrow account.
The Empowered Committee, leading financial institution, and Private Sector Company shall enter into a tripartite agreement as prescribed by Empowered Committee from time to time.
Monitoring
A lead financial institution (refers to the financial institution funding the PPP projects) shall send regular monitoring and evaluation of projects for the disbursal of VGF and quarterly progress reports to the Empowered Committee.
The revamped VGF has 2 components
1. Sub-scheme 1
The Central Government treats 30% of the Total Project Cost (TPC) of the project as VGF. Statutory entity/Central Ministry/State Government also provides additional support for funding (up to 30% of TPC).
Eligibility: It mainly focuses on catering to social sector projects such as Health, education, water supply, wastewater treatment, and solid waste management. These projects may face poor revenue streams and bankability issues to serve fully capital costs, and also projects should have at least 100% operational cost recovery.
2. Sub-scheme 2
This scheme supports demonstration/pilot social sector projects. Central and State Government provides up to 80% of capital expenditure and 50% of Operation and Maintenance(O&M) for VGF over the first five years.
Eligibility:
The projects should come from the Health and Education sectors with a minimum of 50% Operational cost recovery.
64 projects have accorded 'final approval' with a Total Project Cost of INR 34,288 crore and VGF of INR 5,639 crore since the inception of the scheme. VGF of INR 4,375 has been disbursed till the end of the financial year 2019-2020.
VGF Scheme has applications in finance infrastructure projects. Not only infrastructure projects but almost all sectors of our economy also require funds to operate successfully. That's why they seek the help of investment banks to raise funds effectively before launching their business. Are you considering a new business? Do you need funding? Drop a mail or fill up the form below to get assistance right from the start.
Expenditure Involved
The projected budget for the revamped VGF scheme until the Financial Year 2024-2025 is as follows: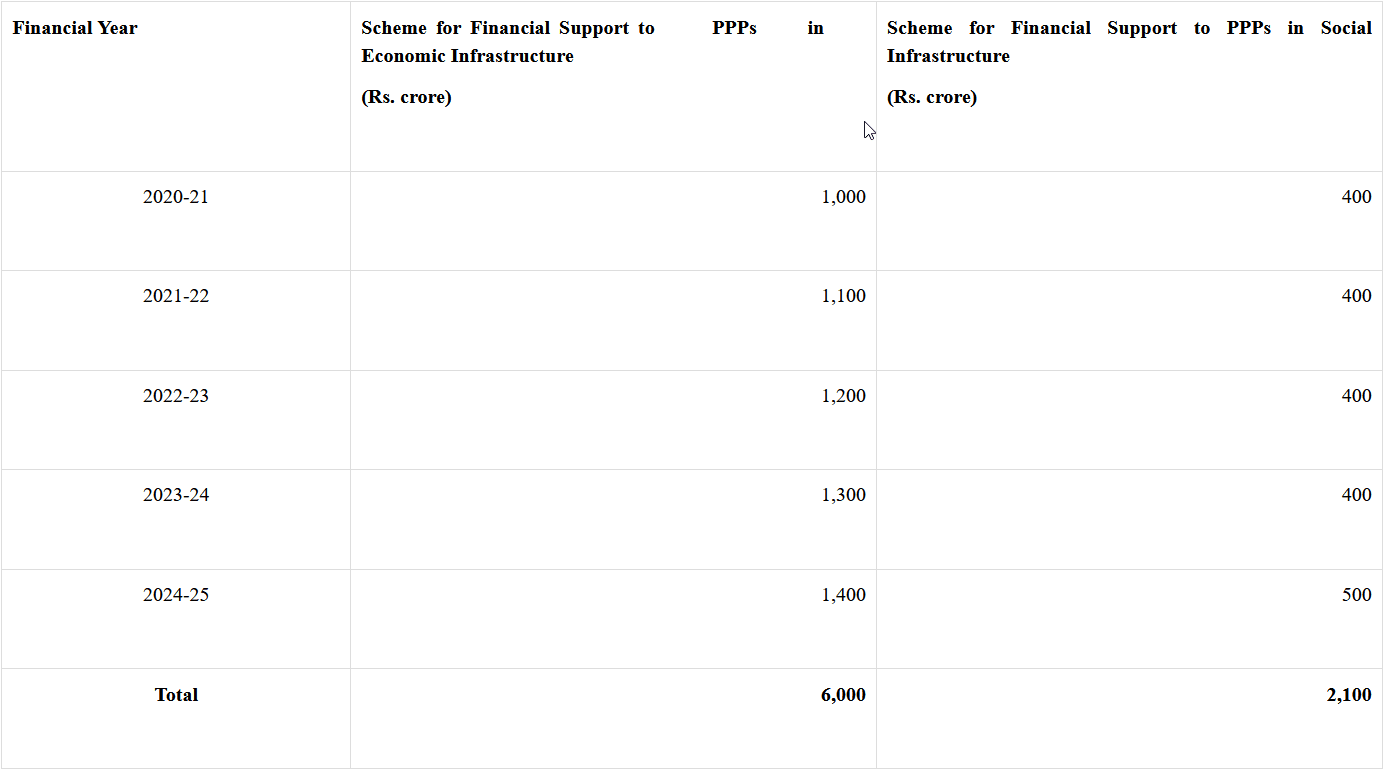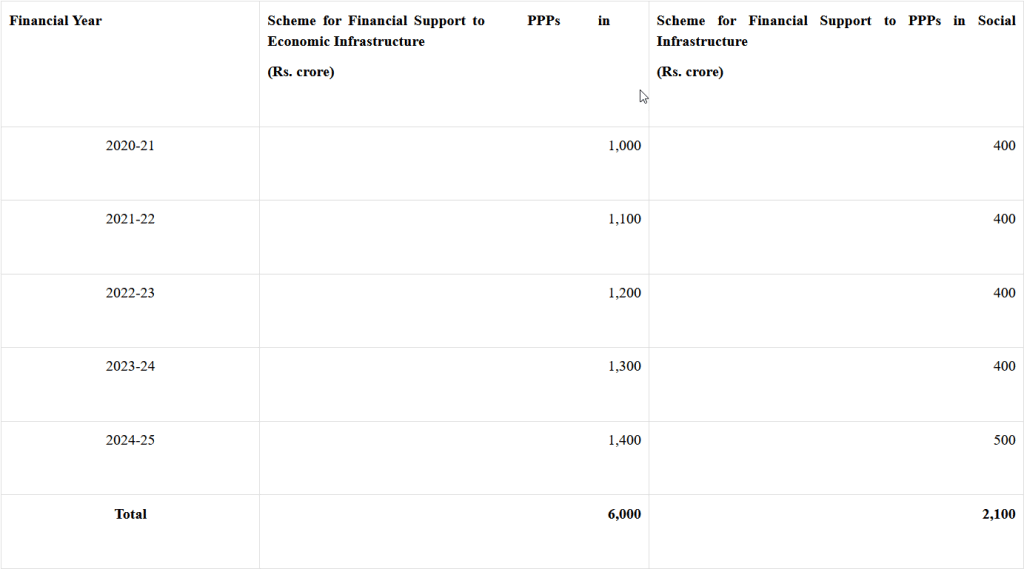 Conclusion
VGF aims to offer financial support to projects that hold both commercial and social significance but face obstacles due to funding constraints. These infrastructure projects often involve extended gestation periods, necessitating a continuous and reliable source of financing. The government provides funding for such projects annually through this scheme.
Resources: VGF – Invest India , IndiaBudgetGov
FAQ
How is VGF Calculated?
This scheme offers financial support (VGF) in the form of a capital grant during project construction. The VGF amount will be determined by the lowest bid for a capital subsidy, with a maximum limit of 20% of the total project cost.
What is the amount of VGF?
The VGF provided within the scheme is capped at 20% of the total project cost. However, the Government retains the option to offer additional grants, up to an extra 20% limit.
What is the eligibility criteria for VGF funding?
1. The PPP projects should be implemented to be able for financing under this scheme.
2. Bidding criterion is based on the Viability Gap Funding amount required by the Private Sector Company, assuming comparable parameters.
3. Projects should offer services with predetermined tariffs or user charges.
4. The scheme applies only when a private sector company is awarded the contract.
5. Project approval precedes bid invitations, and disbursement occurs after the private entity invests its equity portion.

Which are the areas qualified under Viability Gap Funding conspire?
Viability Gap Funding (VGF) covers various domains, including public infrastructure like roads and airports, and essential public amenities such as power, water supply, and waste management. Additionally, infrastructure projects within special economic zones (SEZ) and national investment and manufacturing zones (NIMZ) are eligible for VGF support. Furthermore, VGF is extended to initiatives focused on education, health, and skill development, facilitating crucial advancements in these sectors.
What documents are needed for the proposal to grant final approval?
1) EI memo with Annexures. 2) Feasibility Report/Detailed Project Report. c)RFP Bidding Document:
Instruction of Bidders, Draft Concession Agreement, Schedules. d) Statement on
Deviation from MCA. e) Other project agreements as applicable.
What is the procedure for getting Viability Gap Funding?
To obtain Viability Gap Funding (VGF), the process involves submitting project proposals containing necessary information by the Government or the statutory entity owning the asset. They give preference to model documents for projects over standalone ones. The Empowered Institution (EI) assesses eligibility criteria and informs the sponsoring entity within 30 to 60 days. They may refer the case for further clarification if required. Projects must adhere to specified procedures for approval and implementation. The EC determines the allocation of VGF between ongoing schemes and this scheme.
Does a time lag exist between the grant of in-principle approval and the disbursement of the grant?
Project approvals are granted before inviting bids, and actual disbursement occurs once the private entity has invested its equity share. Consequently, there is an inevitable time gap between receiving in-principle approval and the disbursement, which typically spans a minimum of 12 to 18 months.